There are many things that I will give you criticism on, however I draw that line at Chelsea Handler and
Rachel Zoe.
She's an amazing amazing stylist and she has such a passion for what she does.
Every single time that I re-watch a TiVoed episode of "The Rachel Zoe Project" on Bravo...I feel as if I regain my love for fashion. I see the show and I crave the industry more than ever, even though I thought that'd be impossible. She has the most impeccable taste and the way she puts her looks together is harder than you think. It's not just finding a cute dress and throwing it on her client, she really has trouble finding "The ONE." She KNOWS whens it's "The ONE" when she gets something called the "witch vibe."
Some of Rachel's Clients include:
Actress/Model JOY BRYANT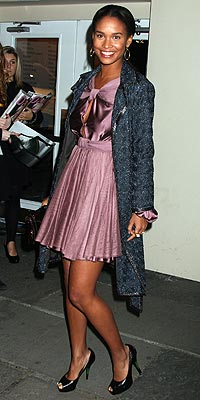 Actress/Model MOLLY SIMS
Actress DEBBIE MESSING
as well as
Actress DEMI MOORE
Rachel Zoe is my inspiration and the reason I keep going for my goal to be in the fashion industry. She is in my number two on my TOP FIVE list of people that I WANT to and WILL meet someday. Rach is pretty, smart, wonderful, sweet, assertive, and obviously STYLISH.
Rachel Zoe is truly amazing, and being part of the "Zoe Camp" will be MY DREAM internship. I'd be more than ecstatic.
Watch out for when I do meet her. Hopefully SOON.
<3 Morena